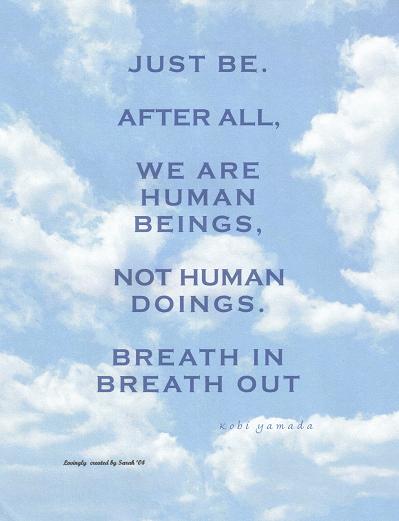 Poster: "Just Be" Kobi Yamada
Premeditated with Simplicity . . .
by Sarah Kelzenberg
We all need support in body, mind, and spirit in order to thrive in the world. It is relatively easy to find support for body and mind, if one is looking. Itís not so easy to find emotional/spiritual support. In the process of a bone marrow transplant for my second cancer, I was blessed with some spirit-friends who helped me develop a deeper spiritual life through yoga, meditation and spiritual reading. I also found incredible support for mind, body, and spirit from my wonderful family and awesome friends who were there for me through cards, emails and, especially through their prayers. From all of these people I gained the strength and tenacity to keep myself centered and balanced, keeping a deep connection with God throughout my years of treatment and, of course, continuing into the NOW, the present moment.
These JUST BE Reflections are pre-meditated with simplicity, and are offered as emotional and spiritual food. I hope that you will find something here just for you. The words I've chosen are nourishing for me and I hope that you will choose cards or posters that let you pause and reflect...or that are just what one of your loved ones needs right now. My booklet, FINDING YOUR BALANCE ON THE CANCER CAROUSEL, is designed to help cancer patients get some emotional/spiritual support, which is often very hard for them to find.
The JUST BE poster at the right has words that spurred me to begin to create posters with amazing, wise words. Having been an elementary school teacher and then principal, I was wildly into DOing. I felt I HAD to be a DO-er in order to provide the best education for my students. However, once that eminent controller, cancer, came into my life, I had to look at life differently. A dear friend sent me a card with these words on it, and they helped me to begin to create a different way of living. BE-ing took precedence over DO-ing and validated the essence of my altered, but marvelous, more sedentary way of life.
THESE POSTERS, CARDS AND THE BOOKLET ARE TANGIBLE FRUITS OF MY NEW, MORE SEDENTARY, BE-ing WAY OF LIFE.
Have a quote or thought that you would like made into a poster or card? Just let me know at eskelz@wbhsi.net