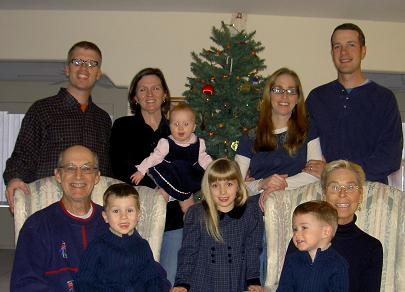 Sarah (bottom right) and her family.
Premeditated with Simplicity . . . by Sarah Kelzenberg
About Me
Married 40 years, a mom, a teacher, a writer, I have been blessed with many friends and many opportunities. I have also been blessed with three cancers. How amazing that anyone would call cancer a blessing! However, in its repeated wake, I have found a place within me called spirit, from whence I could nurture my connection with the Divine.
In the process of a bone marrow transplant, I have received many cards and books from friends and family to support me. I kept some of the cards and wrote down inspiring words from many sources, knowing they would be there when I needed them. The cards, posters and the booklet were created in the wake of a more sedentary life during years of treatment. I am now ten years out from the transplant, excited to still be alive! and I continue to enjoy the already made products while my spiritual reading brings more thoughts for creating new posters and cards.
Contact Sarah
Contact Sarah by email at eskelz@wbhsi.net, by phone at 480-802-5741, or by mail at 10922 E. Sunnydale Drive, Sun Lakes, Arizona 85248, USA.